Review und Bewertung Lohnt es sich Lehrer bei Italki zu werden Teile den Artikel: Affiliate Link Inhalt Einführung Ich versuche in diesem Beitrag eine Entscheidungshilfe zu geben: Bei Italki anfangen, ja oder nein? Meine Erfahrung war nicht sehr positiv, das heißt aber nicht, dass es per se nicht empfehlenswert ist. Für manche mag es super […]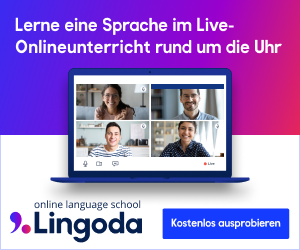 In diesem Testbericht erzähle ich euch über meine Erfahrung mit Lingoda.
Ein Lernprogramm für alle, die gerne flexibel Deutsch lernen möchten. Moderen Lernmethoden, ausgezeichnete Didaktik. Wer hiermit die Sprache nicht lernt, lernt sie nie.

In this review I will tell you about my experience with lingoni.
It's a learning program for those who want to practice on their own or in addition to their German lessons. You can think of it as a workbook that is often sold as a supplement to a course book.